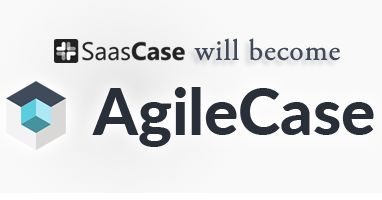 We're happy to announce that we'll be completing the rebrand of SaasCase to AgileCase over the next few weeks. Don't worry!, the only thing that's changing is the name, logo, our website and email addresses; everything else will stay exactly the same and you don't need to change anything.
Soon, when you visit "app.saascase.com" you'll automatically be redirected to "app.agilecase.com". You can of course update your bookmarks to the new address but you don't need to. Our email addresses will also be changing but emails sent to existing addresses will still get to us fine – so absolutely nothing to worry about.
If you have any questions about the branding change to AgileCase in the meantime please feel free to give us an email or call us we'll be happy to answer any of your questions.
Thanks for your support, we've got a tons of new things planned for you over the next few months – we're sure you'll love them.