Microsoft Excel is a powerful tool, there is no doubt about that. But, for a growing business, using Excel as a customer management tool doesn't come without it's risks; corrupt files, missing files, duplicate files (master copy not known), copied/stolen files' etc, the list goes on. Maybe thinking about using case management software isn't such a bad idea. After all, centralizing your customer information, secure access and getting a 360 degree view of your customers are just some of the benefits you can achieve.
Thankfully, moving from Excel to case management software should be a painless process. I can only speak for AgileCase here, which can migrate your customer data from excel to our case management system in 3 steps. Here's how:
1. Contacts
Firstly, you need to find the people on your contacts list; those you want to import into the case management software. Since you've been using Excel to store and manage your customer data, this part should be straight forward to process.
AgileCase has a data import tool and a handy spreadsheet template you can use as a vehicle to add your data to the system. By following the template, you can migrate large volumes of data quickly.
The spreadsheet, which can be downloaded via "Settings > Data Import" under User Admin, is a comprehensive table showing the headers used to map your contacts across to AgileCase. Don't worry, you don't need to complete every column. Just fill in cells for the data you already have. For example, if you leave "Client Code" cells blank, AgileCase will automatically generate a unique identifier for each contact.

On completion of the spreadsheet, just proceed with the "Add Document" process. This will allow you to upload the spreadsheet you've worked on. Then, voalà, your data is imported.

2. Data
This is the fun part and where the flexibility of good case management software should shine through. Now you've imported your contacts, it's time to identify the types of data you want to associate with your business and your customers. In AgileCase, you can create custom case types that enable you to tailor the product to your business.
Custom cases are created using the relationship between three main elements: Practice areas, Case plans and Case types. First of all though, you need to define your practice areas.

Creating practice areas simply allows you to add areas of business you practise in. For example:
If you practise legal services, areas could be:
* Commercial
* Conveyancing
* Family law
* Wills & Executry
* General
If you're a practising Architect, areas could be:
* Commercial
* Residential
* Conservation
* House extensions
* Alterations & conversions
If you practice in social care, areas could be:
* Residential care
* Post-hospital care
* Rehabilitation and reablement care
* Mobility
Next, you can create custom case types. How you relate practise area, case type and case plan will shape the structure of the system and allow you to customize AgileCase to work for your business in your specialist field.

Case type can be Anything, whether "general work", "consultancy" or any other type of work you do for your customer. When you define a case type, you can associate it with one or more practice areas. This allows you to really monitor revenue at a granular level through reports. But that's a topic for another blog post. Right now, really think about the different type of work you do and how they relate to your business practises.
Now, on to case plans. Case plans allow you to set a series of milestones for each of your case types. This is a great way to ensure that every case you open proceeds on schedule.

For each case, simply add one or more events like initial client meeting, second client meeting or respond to initial query. Each event has a customisable time period for the event to be completed after a case is opened. You and your staff can use the case plan to act as a service level monitor – instantly improving your customer management strategy, which means more happy customers.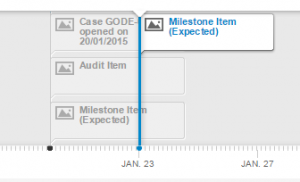 3. Case Creation
You have your contacts and your data types, like practice area, case type and case plans. Finally, you can start adding cases for existing contacts and any new contacts.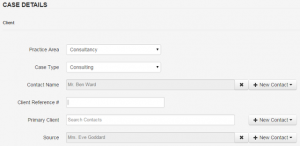 When you "create case", you will automatically be presented with the customised data you entered into the system to build your case. Additionally, you can access advanced options at point case creation, allowing you to set, among other things, the date of when the case was open (helpful for historical cases) and viewing permissions; whether everyone in your organization or specific users.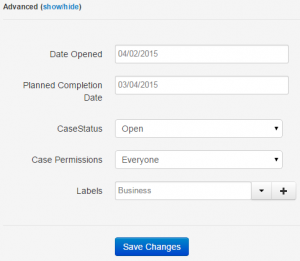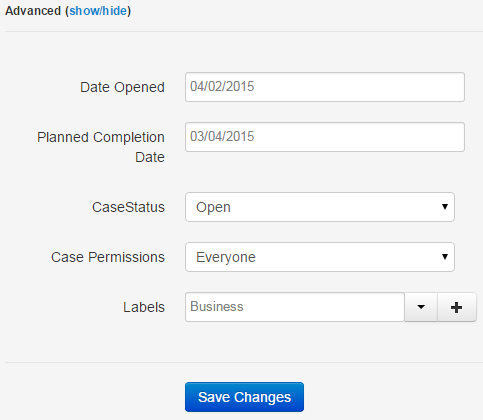 Now you can view your the case and every artefact related to it. A 360 degree view of the customer interaction.

There you have it. The easy way to move from Microsoft Excel as a customer management tool to using case management software. Of course, the steps above have been condensed a little. While I have highlighted a lot of flexibility, there's so much more you can do with AgileCase to customize the system and make it your own to fit your business processes.
Right now we're running a beta program. If you would like to move away from Excel and use AgileCase, let us know. Sign up on agilecase.com and reply to the initial email or send us a message on Twitter telling us about your business, your pain points and why you think AgileCase can help.